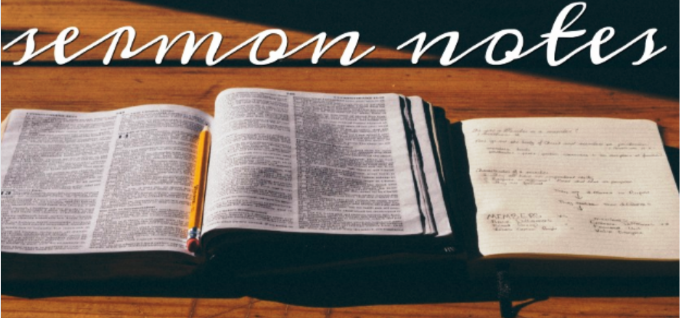 Sin Stinks!
Father Peter Fitzgibbons
Gospel: John 11:1-45
The first Sacrament course we study in seminary is the Holy Sacrifice of the Mass. Now, for all you Catholic lawyers, the Mass is not a Sacrament, but Holy Communion is. The Mass produces the Sacraments. And only he who celebrates the Mass can give the Sacrament. That's why only bishops and priests can give the Sacrament. Deacons, by exception – and it should be rare, can baptize and witness a wedding. So, the Mass is studied first in seminary. From the Mass, the Sacrifice of Christ produces the Waters of Life and the fruits of Christ's redemption that come to us through the Church. Along with the Mass, we studied Confession, Anointing of the Sick, and Last Rites. They go together because each deal with the remission of sin. They are called the Sacraments of the Dead. That's weird, isn't it? These Sacraments are not administered to dead people. They are called Sacraments of the Dead because they are given to souls that are dead to sin and brought back to life. There are conditions to giving the Last Rites. It must be given within two hours of death when there is no putrefaction and rigor mortis . . . "stiff or stink" as we used to say. Before that, if someone is clinically dead, which happens a lot, I will go in and silently say, "If you are living then I anoint you." The Sacraments are meant for the living.
Now, I love to read about almost anything. Do I understand it all? Oh heck no. I read medical journals. Yeah, how much do I get from that? Not much. I realized that I don't know much, so I just love to read. I'm in awe and stunned about how much other people know and how good they are at their jobs and everything else. My brain has been full for years, so I don't know how they do it. One thing I read recently was really encouraging. Soon there will be dogs trained to detect cancer. That's great! I'll go to the doctor's office and get puppy love! It probably won't work that way, but I hope it will. Dogs can detect anything. They are used at the airports. Dogs can sniff out money and drugs. All those things have a unique smell. Even sin has a smell. Did you know that? Ask any nurse about people who come into the emergency room. "Oh yeah. He was drinking well above his weight class." People come in a day or two later, and they still smell like alcohol. People who have smoked marijuana smell like smoke and Fritos. People who have smoked crack smell like burnt cork. Sin has a smell. Some of the great saints could detect sin. "I smell sin. If there's a sinner here, I'm going to find them."
Our Lord had been dead for days so there was certainly a stench. If you really want to find out what a dead body is like after four days in Palestine, an oven, go to talk to a nurse, EMT, fireman, or police officer. Fair warning: don't have breakfast before you do. It's not like television. There are all sorts of bodily changes that happen, and they are not pretty. Even then, sin has a stench. It has a certain odor. We know that from our own experience. Law enforcement officers pull drunks over, and when they roll down the window the car smells like a brewery. "Oh, I'm fine officer!" Sin has a smell as do certain diseases. There is a smell to a dying soul. . . a soul that is dead because of sin.
Our Lord went out searching for dying souls so that He could bring them back to life. He waited three days before going to see Lazarus. He already knew what He was going to do, but He wanted to make His power manifest so that people couldn't say, "Oh, Lazarus was just sleeping" or "He was in a coma." Our Lord waited for three days so that Lazarus was really, really, truly dead, and He brought him immediately back to life. He does the same with sin. He restores us immediately to His friendship. Through His Most Precious Blood which He shed on the Cross and offers to us in Holy Communion and the Sacrament of Penance, He wipes away all the decay on our soul and restores the divine image. Restoration is immediate. The Sacrament of Penance takes a dead soul and brings it back to life by restoring God's friendship. Sin is totally washed away, and faith, hope, and charity, three theological virtues, are infused into the soul. Like Lazarus, we come back to life. No matter how awful the sin, the Lord washes our sins away. So great is His love for us.
When I was a young priest at Saint Gabriel's in Charlotte, a man served us breakfast every day. He had a German accent, and one day I saw a tattoo on his arm. He was a member of the SS or the Schutzstaffel. They were bad boys, and he was lucky that he wasn't shot on sight. But he changed his life and died with the grace of God. Sin makes us feel guilt, shame, fear, and remorse. "I could never be worthy of God's love." That's what He came for. "Father, I've done everything in the book." I doubt that . . . I've known some pretty strange people. "Father, what goes on in Confession?" It's like being stoned to death with popcorn. However, every sin is bad. The difference between a mortal sin and a venial sin is the difference between slapping your wife and punching her.
Everything can be restored immediately as if untouched when we receive the Sacrament of Penance. The Most Precious Body and Blood of our Lord anoints a soul. People have all sorts of excuses they use to stay away from Church. Guilt, shame, and remorse keep them away, and that's a direct result of sin. Either we are living tabernacles, or we are not. If we are bringing the presence of Christ to others by God dwelling in our souls, we are a living tabernacle that we bring to people or we are worse than Covid-spreaders who bring the stain of sin to them. All of us can be called back to life. The resurrection of Lazarus from the dead continues every day in the Church.
Whenever someone goes to Confession, someone who was dead comes back to life. When we go to Confession, we are saying, "God, I love you. I messed up, and I turned my back on you. But now I'm here." And our Lord says, "Hooray! Even though you have sinned, I will restore your life and My friendship." That's why our Lord came so that we may regain our life by the forgiveness of our sins which is how we know His love. On a practical level, don't ever be afraid of proclaiming God's forgiveness. This is the only thing we can teach people. We may not have an alphabet of letters past our name like DMin, PhD, MDiv, JD, MD, etc. A lot of people do, but I wouldn't want to be in a spiritual foxhole with them. The greatest lesson we can teach people is to tell them what God has done for us. "I know the love of God by the forgiveness of my sins and the reception of His Most Precious Body and Blood." Tell them about the comfort you get by coming before the presence of God in the Most Blessed Sacrament. That is what we preach. Go out and preach that. No matter what addiction you have, and no matter what crosses you bear, this is the message of hope that translates all the way through to the heart. It doesn't matter how far you have fallen. God loves you and wants you back in His arms.
How will you apply this message to your life? _________________________________________
You can read all of Father Fitzgibbons' sermons by going to annunciationcatholicalbemarle.com and clicking on "Blog" then "Categories" then "Sermon Notes." On a cell phone: click on "Blog" then "Menu" and then "Categories." Sermon Notes are also available on the church Facebook page at facebook.com/ola.catholic.church. Click on "Groups" and then "Sermon Notes."
---