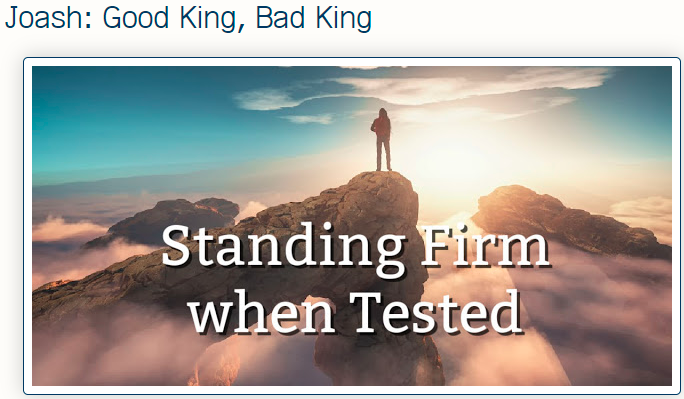 Societal pressures are separating genuine Christ-followers from nominal Christians. Why? Because the testing of our faith always reveals the truth of our beliefs.
We have a "good bad example" in the Old Testament king named Joash (2 Chronicles 24).
Joash became king at a young age under tragic conditions, but God gave him a loving aunt and a godly priest to mentor him and help him restore Israel to the Lord.
With God's love and favor, Joash became a godly king, a very godly king.
Until tested.
When his godly mentor Jehoiada died, Joash turned from God and killed Johoiada's righteous son. He gave in to the popular paganism of his day and led Israel away from God.
When tested, his true beliefs were revealed.
So let me ask you these very important questions:
✔ Have you sincerely understood the gospel and given your life to the Lord? (Romans 10:10)
✔ Are you willing to stand up for His unchanging Word even when it's criticized and mocked? (Matthew 10:22)
✔ Are you preparing your heart and mind for persecution? (1 Peter 4:12)
If your answers are "yes," you can rest assured that you will never stand alone. God will be with you! (Hebrews 13:5) 
---